I can't help but think Disney missed a trick by releasing Big Hero 6 just one week after the second biggest holiday of the year: Halloween. With such lovable characters like Hiro Hamada, Baymax, Gogo Tomago and Honey Lemon it's easy to see why it was so popular grossing well over $600million at the box office.
Any Disney movie released before Halloween is bound to see people rushing to dress up as their favorite characters but Big Hero 6 even more so, derived from a Marvel Comic the characters are designed specifically for cosplay, targeting teenager and adults alike who may not be interested in typical Disney films and are likely to go to cosplay convention in their spare time.
Hiro Hamada may have been the main character but Baymax became the breakout star stealing the show and many moviegoers hearts in the process with a comedic Olaf-like quality that is very endearing. Not that Disney was going to replicate Frozen's success (or will anytime soon) however putting it in a November winter slot much like Frozen was in one year before, you can't help but speculate. 
Baymax Big Hero 6 Costume
White Baymax Inflatable Costume, Child
Disguise Men's White Baymax Inflatable Adult Costume, White, One Size
Now that Halloween is almost back around again you do have a chance to dress up as your favorite cuddly robot character for the first time and I say take that chance with both hands, today I'll show you several ways to create your own Baymax costume aswell as a selection pre-made costumes that are great for those in a rush.
I originally wrote this article back when Big Hero 6 had just been released and there wasn't much in the way of costumes, thankfully two years later there are plenty of choices to pick from. Let's begin with Amazon and here are two options for you, one for children and one for adults.
Inflatable Baymax Costume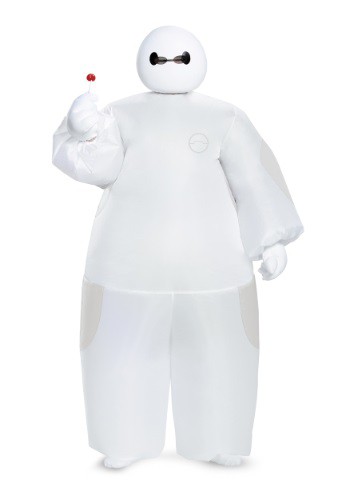 Boys Baymax Inflatable Costume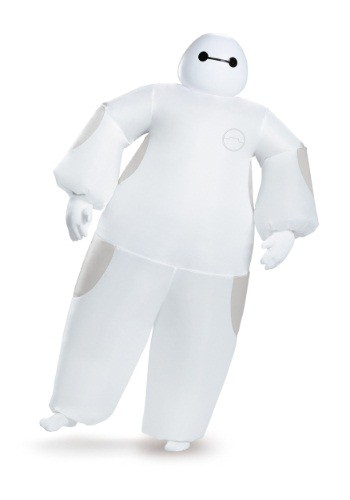 Adult Baymax Inflatable Outfit
My favorite Baymax costumes are from another specialist retailer for the holidays halloweencostumes.com, the only thing to note here is each costume is only available from late August but you can pre-order as soon as. Both are inflatable, one for adults and one for children available to order from last August (well in time for Halloween).
Here are your pre-made costumes, these are ideal for those in a rush not wanting to mess around with materials and sourcing clothing from thrift stores. Deliver everything straight to your front door in time for Halloween, no stressing around (just make sure you order with plenty of time to avoid disappointment).
Red Superhero Baymax Costume
Red Baymax Deluxe Costume, Small (4-6)
Red Baymax Classic Costume, Small (4-6)
Aside from Baymax's white outfit worn throughout the majority of the film he does differentiate with some color in this case red and purple superhero transformation when up against villains. There are two styles showcased here depending on the level of detail your child wants.
DIY Baymax Costume
There are so many ways you can create a Baymax costume, they could literally fill a book but I'll stick with a few of my favorite gathering ideas from places like Pinterest, other blogs and sites is a good start.
The first way is using a pair of white pants paired with a white long sleeved shirt, think of this as your robotic 'skin'. Check out local thrift stores to pick up all the clothing items you'll need for a few dollars if you don't already have something suitable in your closet.
Then you need to create a mask, start with a piece of white card and draw on the black eyes with a line going across the two of them with a black marker/Sharpie then attach elastic to loop around your head.
The final addition is padding in your shirt to replicate Baymax's bloated belly look, either use a large pillow of balloon. Just add appropriate footwear, white if possible, and you're completed.
Another way to create Baymax's white robot outfit from scratch is using balloons, it may seem obvious but this delivers a cruder result compared to the above method but still worth a shot.
Start by gathering enough balloon to hide your body, stick all balloons together to create his belly. Now add the mask as shown above and wear a pair of white trousers and footwear to complete the look.
DIY Superhero Outfit
Start with a red long sleeve shirt like above and a pair of red pants aswell, these will act as a base. Next find a purple shirt you can cut, cutting out segments for the belly and shoulder pads. Then sew on each purple cut out onto your red shirt into the appropriate spots.
With the shirt finished move onto creating a Baymax superhero mask. The same principles apply as the white mask only this time there's more details to cover. You'll first need an image to use as a guide before you start.
Begin with a red piece of card cut into shape for the mask base. Now create the earpieces using more red card and attach a circle of purple tape to the centre of each, then staple them onto your base.
Next are the white highlights, once this shape has been cut out of sturdy white card along with eye holes, cut eye holes next out of your red base where your white highlight will go over and staple/glue it into place. Use a black marker/Sharpie again to mark out the eyes with a line going across both. Finally attach your mask to an elastic band or piece of string to keep in place on your head.
I've gone a bit Big Hero 6 crazy on the blog in preparation for Halloween so don't forget to check out all other character's cosplay tutorials including: Gogo, Honey Lemon and Hiro. Go as a group of friends, each person dressing as a different character from the series (great for families too).