The minions are here to stay with three movies now under their belt their popularity has surged once again and I predict anything minions related will be hot come Halloween so parents you know what that means, stock up now or risk a massive temper tantrum come October 31st.
Gru is one of the main characters from Despicable Me 1 & 2 along with appearances in the minions own spin off movie from 2015 of the same name.
His full name 'Felonius Gru' only makes him sound even more despicable, perfect for his role as the main super-villain of the series. Despite such an esteemed role Gru is often described as a bald teddy bear and you'd be forgiven for thinking he was a nice guy going off his appearance alone. Here's how to assemble your own Despicable Me Gru costume perfect for Halloween and fancy dress.
Gru Despicable Me Outfit
Despicable Me 2 Gru Costume Adult
Despicable Me Gru Adult Costume Adult
First up is Gru's outfit that he wears for the majority of the first and second movies, the outfit from the second movie is especially popular as more people were introduced to the franchise.
Unfortunately there are no kids costumes and I looked far and wide, I guess Gru is aimed at adults and Minions at children as you need extra height to pull his look off successfully.
However keep in mind we see Gru star in Minions' new spinoff movie this year (2015) but he is only 8 years old, totally different from his older self in the Despicable Me movies and a perfect guide for children pulling off this look.
Adult Gru Costume
It's not just Amazon that has you covered this year check out a similar outfit for the Despicable Me master on Halloweencostumes.com where you get blue shirt, pants, scarf and mask thrown in aswell. Everything you need to transform into his character just add your own footwear and wear a warm shirt underneath (depending on the winter weather).
It's always a good idea to have a backup just in case Amazon goes out of stock during the busy holiday months and check prices nearer to October 31st because you never know what deals are running that could get you a better price than Amazon (it happens).
As a main character from one of the biggest animated movies of recent times it's a surprise that Gru's outfit isn't more complex consisting of blue top, stripy scarf and plain black pants. Here are two different brands that reflect the character a little differently, one with main colors of blue and the other black.
Despicable Me Gru Mask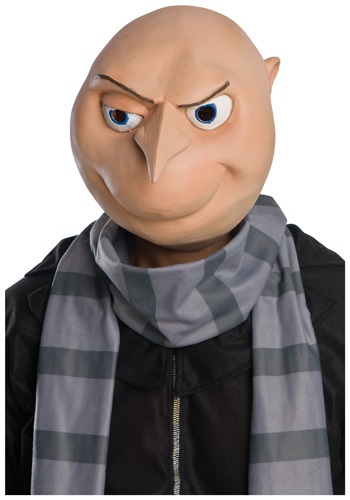 Gru Mask
Rubie's Costume Despicable Me 2 Gru
Next let's cover his mask, as Gru has many unique facial features you definitely need a mask or at least good prosthetics and makeup to pull off a similar look considering his unusually long nose. Here are two different choices for you to check out which are both popular.
Once you have a mask creating the outfit from scratch is fairly simple: gather a blue fleece coat, black pants and a grey scarf. Simply put all of these items together and add your mask and you have a completed outfit just like that.
Gru Nose and Bald Cap
Theatrical Effects Bald Cap
SHEIK FAGIN NOSE
Two items to consider are a fake nose and bald cap. The first thing you notice about Gru is his elongated nose and bald head, if these are two features you fail to possess then perhaps these accessories are for you.
People with short hair should be able to disguise themselves with just a mask however for long-haired people a bald cap is necessary. Check out this sheik's nose above too made of latex and easily applied with spirit gum.
Despicable Me Gru Scarf
TrendsBlue Gray & Black Soft Knit
Sport-Tek Spectator Scarf>One size Black/Iron Grey
As I pointed out above the do it yourself route is fairly simple, all you need is a few everyday clothing items. However Gru's black and grey scarf may be difficult to find, don't dismay here are two choices to add to your mask and other clothing to complete his attire and once Halloween is done you have a  warm scarf to wear.
I know many adults are sick and tired of seeing these little yellow monsters everywhere but they aren't going anywhere soon and be warned there'll be more out in force come Halloween!
Also check out our other Minions themed tutorials including Purple Minions and Scarlet Overkill, perfect for families and groups going as the characters from Minions' new spin off movie for 2015. New guides coming soon so keep an eye out for those too.