2015 has been a bumper year for movies at the box office, we've had both Avengers 2: Age of Ultron and Jurassic World gross over the $1billion mark as well as animated movies such as new 'Minions' spin off movie grossing over $700billion (at the time of writing).
Let's not forget Disney Pixar's newest cinematic addition Inside Out featuring the five emotions as different colored characters: Joy, Sadness, Disgust, Anger and last but not least Fear. Taking place on the inside of a young girl Riley's head we see how these five emotions try and keep her balanced throughout the day.
As with any story there's always a problem along the way, for Inside Out this is in the form of Joy and Sadness getting lost outside headquarters leaving Disgust, Anger and Fear to manage Riley's emotions (not an easy task) hoping that Joy and Sadness make it back without disappearing forever!
You'd be hard pressed to find all five Disney Inside Out Costumes tutorials on the same website however I have each full guide linked below along with official costumes for quick access. 
Inside Out Joy Costume
Disguise Women's Inside Out Joy Deluxe Costume, Yellow, Large
Joy Classic Child Costume, Small (4-6x)
Joy is one of the more prominent characters alongside Sadness who embark on a journey back to headquarters for the majority of Inside Out. Joy notices that any memory orbs Sadness touches turn 'blue' and cannot be changed back, whilst trying to remedy the situation she only makes things worse sucking both up a waste tube by mistake.
Whilst Joy doesn't understand Sadness's place as part of the group towards the end she realises that Sadness is as important as all the other emotions and deserves a place in headquarters, because without Sadness there is no balance despite not being a pleasant emotion in itself.
There are official costumes available for Joy aswell as a wig from Amazon available, there wasn't at the time I first wrote this article so I've updated the links above.
Inside Out Sadness Costume
Blue Bob Wig Joy Wig Coraline Wig Ramona Flowers Wig Ramona Flowers Costume Wig
FancyG Retro Geek Nerd Style Round Shape Glass Frame NO LENSES – Black
Next up is Sadness, alongside Joy she features for most of the movie working her way through Riley's mind with Joy dragging her along as she's much too sad to walk herself. One of the most memorable scenes is when Sadness inadvertently cheers up Bing Bong (Riley's imaginary friend) and this is the pivotal point when Joy realises just how important she is.
Sadly for her outfit there is no official costume however you can check out our tutorial where with a little imagination and sourcing from a few different places we've managed to put together her complete outfit including chunky grey turtleneck, wig and leggings.
Inside Out Disgust Costume
Disgust Classic Child Costume, Small (4-6x)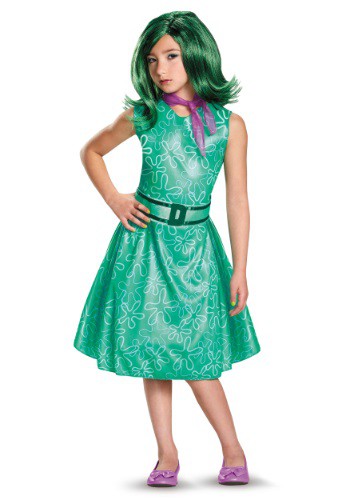 Inside Out Disgust Classic Girls Costume
Thirdly comes Disgust, we see her working alongside Anger and Fear to keep Riley ticking over when Sadness and Joy accidental got sucked up a waste tube with disastrous consequences. It's then that Riley's experiences her 'stroppy teenage phase' fuelled by her families recent move to a new city where her Dad works, beginning to disrespect her parents and not feeling very happy emotionally.
One of Disgust's main scenes shows Riley and her Mum getting to grips with their new town. They got to the local pizza place only to find it only serves broccoli pizza which is Riley's least favorite type of vegetable. Disgust reacts as only disgust would with plenty of sighs and eye rolls.
Fortunately there is an official costume for Disgust by several online retailers including Halloweencostumes.com aswell as an accompanying wig too. You'd be hard pressed to find a similar outfit in brick and mortar stores so online is definitely your best bet.
Inside Out Anger Costume
Anger Classic Child Costume, Medium (7-8)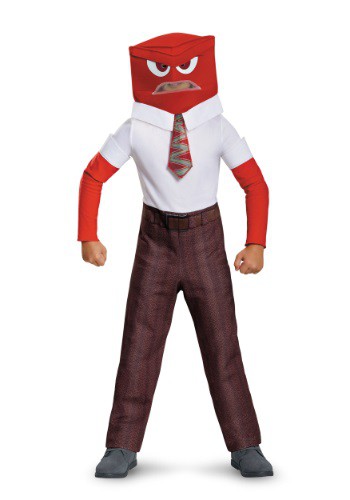 Inside Out Anger Classic Boys Costume
Next on the list is Anger, it's unfortunately that we don't see as much of Anger, Fear and Disgust (something I wish Pixar will fix in a sequel) however we see enough of the character to get an idea of his outfit. This is in a similar style to a grumpy business man with business like attire including: brown pants, white shirt, red patterned tie and red skin.
As each character is a literal personification of their chosen emotion Anger literally sees 'red' with red skin which you can recreate using a zentai suit, mask, or face paint. Also when Anger 'blows his top' we see this very literally in the form of fire leaping from his head.
Inside Out Fear Costume
Last but certainly not least is Fear, probably the one we see least which I think is a great shame. He's always running out of shot in the clutches of fear at whatever has frightened him which is no shock considering.
We see him wear a black and white pattern vest, purple shirt, pants and purple skin. Not that purple is often associated with fear but I think you'll agree it works anyway.
Again he is a character with no official costume available at the time of writing and for the foreseeable future however we have managed to put together a tutorial covering his clothing items which you can gather from online retailers or physical thrift stores.
Inside Out Makeup
Makeup is important for each character with each one being a different color depending on the emotion they're portraying. Joy is yellow, Sadness is blue, Disgust is green, Anger is red and Fear is purple. Check out this makeup tutorial featuring all Inside Out characters, skip to which ever one you need specifically.
Now you have all you need to create each characters outfit what are you waiting for, even better go as a group with each person dressed as a different member of Inside Out and as one of the hottest movies this Summer, come Halloween everyone will definitely recognize who you are. A lot of work has been put into each character's tutorial (linked above) to guarantee you get the look you want.