Chucky is a well know serial killer who lives inside the body of a doll, and has become one of the most well known horror villains alongside Freddy Krueger, Mike Myers, Ghostface from Scream and Leatherface.
Today we'll be looking at how to create your own DIY Chucky costume including everything you'll need: overalls, wig, weapons, and scary cracked doll makeup. Aswell as premade outfits for those in a rush.
This is ideal for Halloween when Child's Play is bound to rerun on the numerous movie television channels. The look we'll be focusing on is after the third film when he's dropped into a giant fan which slices him into pieces consequently creating his iconic spooky stitched-up look.

Chucky Costume
Chucky Costume Boy – Child Medium/Large
Costume Culture Men's Licensed Chucky Costume, Blue, X-Large
First up here are Chucky outfits for men and boys, it's common to see father and son dressed in the same outfit during Halloween so these'll work a treat for that.
Both sets include everything you'll need including: blood splattered overalls, shirt and mask with hair. Add appropriate footwear and you're ready to trick or treat.
Hi, I'm Chucky. Wanna play?
Women's Chucky Costume
Sexy Chucky Costume Md Adult Womens Costume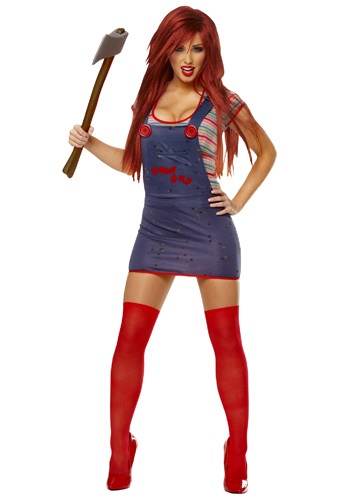 Sexy Chucky Costume
Don't want to dress as Chucky's Bride? Don't worry there's an alternative in the form of these sexy Child's Play outfits modelled after the possessed doll.
Includes: blood splattered overalls, skirt and shirt. Add a pair of red heels and a toy axe to complete the look. Use a mask for his stitched-up face or use the makeup tutorial below.
Bride of Chucky Costume
Costume Culture Women's Licensed Bride Of Chucky Costume, White, Large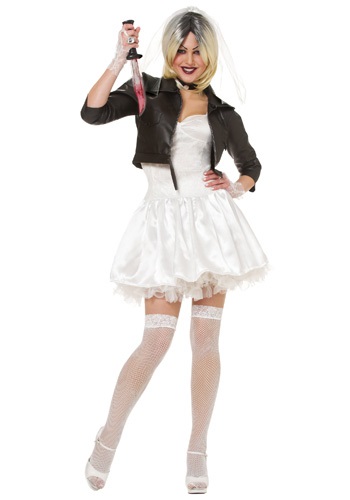 Bride of Chucky Costume
We're introduced to the Bride of Chucky in the fourth movie (Child's Play 4), here we see Chucky with his new stitched look and we find out he's found himself a wife to be.
Her outfit is perfect for couples at Halloween or cosplay and includes: black faux leather jacket, bridal dress, gloves and black chocker with rhinestones.
Homemade Chucky Costume
Check out the local thrift store for supplies before beginning:
Blue denim overalls
Cheap red costume wig
Striped shirt for underneath overalls
Assemble all parts and add the makeup tutorial below to complete your look. Don't forget to add a toy axe, add fake blood for a menacing touch.
Chucky Makeup
Chucky's face is super important to his overall look especially after the third movie where he has permanent scars on his face stitched up with thread. You can either opt for a mask or do it yourself with makeup using this quick four minute video as a guide.
Start out by mapping where you want your scars to be with rigid collodion, this makes indents in your skin where it's applied (make sure you're not putting it to close to your eyes). Go ahead and apply your foundation like you normally would then prime your lids.
Lay down creamy purple shadow onto your eyelid for the base of a bruised black eye using black for extra depth. The artists takes red from her BHCosmetics palette and blend it around the eye area. Layering those three colors until you have a believable bruised look.Use a red shadow for your eyebrows to match your red hair.
Now begin tracing your scars with black shadow, go over those lines with a red liner. After that used an angled brush to broaden each scar out for a grosser texture. Next add stage blood over your scars letting it drip down slightly. For Chucky's stitches cut up black thread and apply it along your scars using lash glue. Add in Chucky's freckles with a brown pencil. Finish off with your regular mascara and lashes.
There you have it, a completed Child's Play costume perfect for Halloween! Take your girlfriend or wife along as your Bride and you're all set for a fantastic October 31st.