I've been hearing all about this new Deadpool movie released by 20th Century Fox last month into movie theatres which has already grossed over half a billion dollars and knew it was time to write a post on his cosplay outfit.
It's a Marvel Comics' film based on the comic book series of the same name and is part of the X-Men franchise based on a guy called Wade Wilson who goes on hot pursuit of the guy who gave him his superpowers alongside a scarred physical appearance.
Today we'll be looking at how you can create your own DIY Deadpool costume alongside some options for those in a rush who want premade options.
Deadpool Costume For Kids
&
Howriis Deadpool Costume (Kids Medium, Red)
BlackSunnyDay Lycra Deadpool Super Hero Full Body Zentai Suit (Adult Large, Fashion)
&
Before we dive into the do it yourself instructions let's first take a look at all the premade cosplay options that'll save you a whole lot of time and hassle. First off for children, most of the professional cosplay gear is aimed at adults but there are a few fancy dress options targeted at kids.
What you see is what you get with these two sets with the mask attached to your zentai suit, just make sure sizing is correct before purchasing using the included size chart on the product page. Looking at what you get included this is something you could easily replicate yourself which we'll cover in more detail below.
Deadpool Costume For Adults
&
Rubie's Men's Marvel Universe Classic Muscle Chest Deadpool Costume, Multi-Colored, X-Large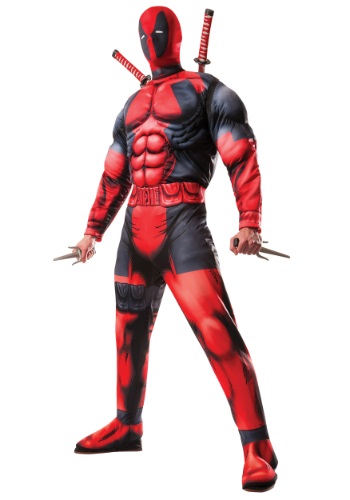 Adult Deadpool Costume
&
It's not just kids who are in love with Deadpool on the big screen, adults have been flocking to see the new film based on an established comic too. Here are two of the most popular choices for you from two different retailers (Amazon and Halloweencostumes.com) as it's always good to have multiple options.
You get the exact same from both i.e a deluxe muscle chest piece with jumpsuit, and mask, ninja style weapons not included although you could add them if you wish. If you'd like to see the detailing on the jumpsuit check out the rollover image on each product page that allows you to look closer. Doing a little close inspection the belt is actually removable, great to replace with your own or keep on and use.
Deadpool Utility Belt
&
Men's Deadpool Cosplay Belt with Metal Buckle Halloween Costume
Ninja Double Sword Toy Weapon Backpack
&
There are just a few more accessories we need to the outfits above before we can move onto the do it yourself guide below. Just a few things that any hero needs on hand to fight off baddies. Item one, a utility belt to fit with all your weapons. This set includes six leather pouches with a central belt buckle depicting the DP logo.
This is something you could whip up yourself using a generic utility belt from the thrift store then create the belt buckle with an old mayo jar lid (environmentally friendly) painted black, red and white using a reference image for guidance.
We now have a utility belt in place whether that's something you've created yourself as outlined above or bought online or in an offline retailer, now all we need to do is add weapons. Above is a ninja plastic weapon set that should be more than enough although adding an airsoft rifle is another good idea.
How to Make a Deadpool Costume
As promised we're going to be covering how to create this cosplay outfit from scratch at home (a great family project at that) if you're feeling crafty.
Here's the thing: none of the outfits pictured above will work if you want something more elaborate especially for cosplay as they are basically spandex with printed designs on and a few 3d attachments.
What I recommend for a more life like result is using textured red spandex and quilted black vinyl for the black sections of their outfit using white chalk and a sewing machine to fix everything into place.
Adding the rest of the accessories piece by piece like utility belt and weapons (which can be found cheaply at thrift stores) until you are satisfied.Don't forget to create a mask, this would be pretty easy using a red ski mask as a base which you can sew shut then finish by adding more textured black fabric around the eyes.
That's a wrap folks, with cosplay season approaching you have everything you need to dress as your favourite character. This is also perfect for Halloween and great for groups who can all dress as different characters from the X-Men franchise.