Today we'll be focusing on how to create a DIY ET Elliott Costume based on one of the most famous movie sequences ever, where Elliott and little E.T. enter a chase from the authorities on a bike using his magical powers to give the bike flight.
I often think I was born in the wrong era as a 2000's kid I was much more obsessed with 80's movies, television shows and pop culture than my own generations. I couldn't get enough of Teen Wolf, Big or any of the Back to the Future movies.
Extra-Terrestrial was one such movie from the 80's period that had me entranced which was about a boy who finds an alien and tries to keep it a secret from his parents and the authorities. I'm pretty sure anyone who's watched the movie or not will recognize the outfits below.
ET Elliott Costume
Adult E.T. Elliott Kit Standard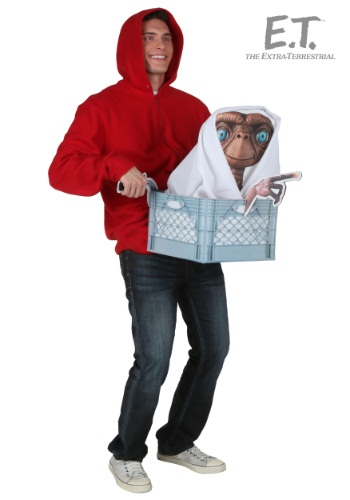 Adult E.T. Elliott Costume Kit
To my surprise there is an official outfit kit available through a variety of retailers, so before we dive into how to create this yourself here are a few options for you. There's choices from both Amazon and Halloweencostumes.com just in case one goes out of stock. Both include sweater jacket, blanket and alien cutout. Simply add a crate, denim jeans and appropriate footwear and you're ready to go.
DIY ET Elliott Costume
You'll Need:
Red sweater
Denim jeans
White crate
ET toy or cutout
There are two parts to creating this look, first off Elliott's outfit which consists of red sweater and pair of denim jeans. Then you'll need to figure out how to incorporate the Extra-Terrestrial in your cosplay.
So let's begin! You can begin sourcing a red sweater (adjusting sized based on whether an adult or child will be wearing it) if you don't already own one, check out sites like Ebay for cheap deals otherwise local thrift stores are guaranteed to stock what you need. Then a pair of denim jeans, chances are you already own a pair so I don't even need to list them, if not thrift stores are an excellent place to begin your search.
Now we move onto creating ET himself, this is the tricky part. There are two ways to go about this either start with sturdy card and print out a large image of ET to use as a cutout or buy a large plush that can be used in a similar way.
Then just wrap it up in white sheets and place in a crate. I've seen other cosplayers attached a pair of old bicycle handles to either side of the crate and this is something you may want to copy for added authenticity (or actually ride a bike).
So there you have it a completed E.T. Elliott outfit, this is perfect for everything from Halloween, cosplay conventions to 80's fancy dress parties. Get ready for people to get super nostalgic and want to take tons of photos with you! Don't forget to check out our social media linked above before you leave.