Forrest Gump was book by Winston Gloom that was turned into a feature film back in 1994, it has remained a classic 90's film to this day and became one of Tom Hanks most memorable movies.
The book and subsequent movie focus on the adventures of Forrest Gump from Alabama, who over the course of his life influences many moments in history. He is characterized as a soft spoken, slow-witted but kind man who pursues athletics namely running.
It has been a while since we did a costume tutorial for one of Tom Hank's characters so today we'll be showing you how to put together a Forrest Gump Costume, that will be perfect for Halloween and fancy dress parties.
You'll see both his smartly dressed look and running outfit showcased below, there are more than one way to dress as this character. With instruction on how to make this costume from scratch or buy the outfit pre-made. So without further ado let's begin!
Forest Gump Suit
Forrest Gump Suit Large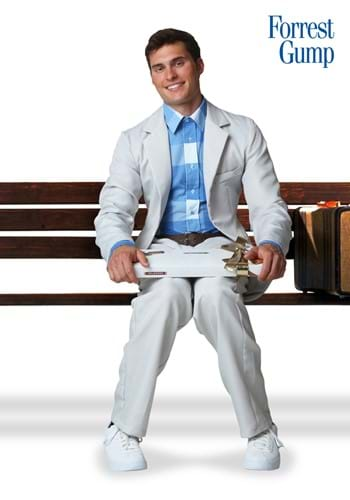 Forrest Gump Suit
As I stated above Forrest Gump has two different outfits, if you would like to wear his smart suited look then this section is for you. If you'd prefer to wear this running outfit scroll down. This costume set includes: grey jacket, blue shirt and pants. We have included choices from both Amazon and Halloweencostumes.com just in case one goes out of stock. Order well in advance to avoid disappointment.
If you prefer grab the items from your local thrift store, a grey jacket, grey pants and blue shirt shouldn't be difficult to find. Then finish with a pair of white canvas shoes. A red hat would help add some familiarity to this outfit as it would be difficult for onlookers to guess who you are otherwise.
 Forest Gump Running Costume
Fun Costumes mens Running Forrest Gump Costume Large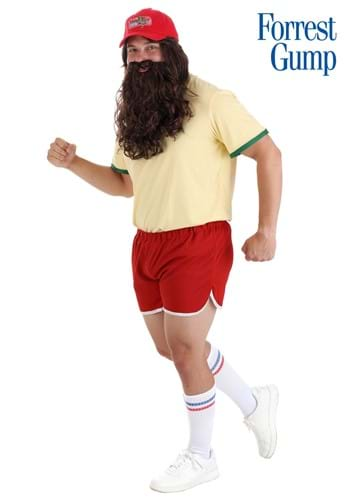 Plus Size Running Forrest Gump Costume
This outfit is a lot more recognizable than the one above which is just suit and shirt, so that is something to consider before picking which outfit to wear. This running outfit set includes: yellow 'v neck' shirt, wig, beard, hat, running shorts, socks. We have included both Amazon and Halloweencostumes.com just in case one goes out of stock.
If you'd prefer to go the do it yourself route it wouldn't be difficult to find the running shorts, tube socks, yellow shirt and generic red hat at the thrift store. Then add a wig and fake beard (if you don't have one) to complete the look.
Those are the two options to consider if you'd like to dress as this character for Halloween. This would make the perfect couple costume too if you bring along your girlfriend/wife as Jenny, who is Forrest's love interest throughout the movie. Have them dress as a 60's hippie with a blond wig if their natural hair is not the correct color.
Before leaving check out our other tutorials on the blog and to keep up to date on our newest guides follow us on social media.