Bender, full name Bender Bending Rodríguez, is a robotic character from Matt Groening's animated sci-fi comedy Futurama. Think of it as Simpsons but set in the year 3000. Bender is my favorite character thanks to his erratic behaviour which often provides much comedic appeal and his catch phrase 'Bite my shiny metal ass'.
What makes Bender so popular beside his comedic behaviour (everything from stealing anything in reach, chain smoking and gambling) but also his strong friendship with human Fry, whilst generally Bender hates all things human often proclaiming 'kill all humans', Fry on the other hand resides on his Do not kill list.
He's what you'd expect from a robot, at least one from the mind of Matt Groening with a lack of empathy and sympathy to boot, although from time to time his softer side does come through illuminating a rather human-like aspect to his personality that is endearing to us viewers.
Futurama Bender Halloween Costume
Adult Bender Costume Standard
Big Boys' Child Bender Costume Large
For those that don't want to go the do it yourself route here are two simple costumes featuring Bender's tunic and headpiece with pants included for adults and children. The tunic can be easily worn over your existing clothes which will help you keep warm depending on the weather where you live.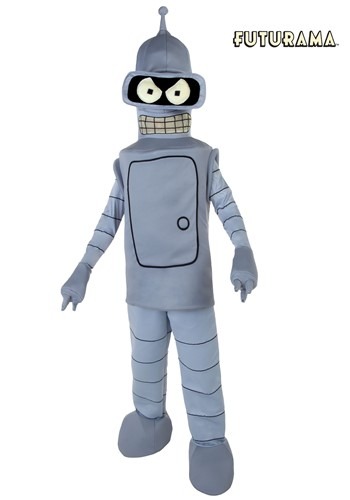 Child Bender Costume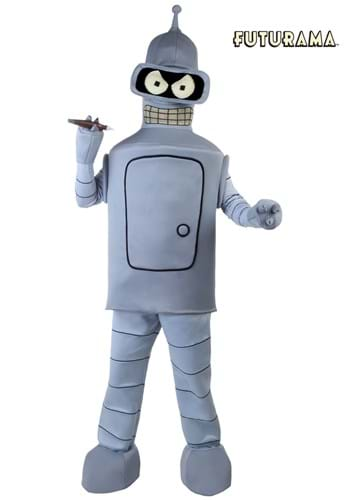 Adult Bender Costume
Here are more official Futurama Bender costume from retailer Halloweencostumes.com which caters for all ages, adults and children alike. Both sets come with tunic and attached headpiece, pants and hoop. Check prices against Amazon closer to the holidays when they can become competitive and you may just find a cheaper deal.
Make Futurama Bender Costume
Enough about the character himself, let's move onto piecing together your own Bender Halloween costume, why not dress as this character for Halloween this year as the likelihood is not many people are having the same thought so you'll stand out in a crown and as you won't find costumes like this in brick and mortar stores you'll be even more obscure.
Bender is a robot made of many different components and so you'll need to gather these pieces and put them together like a puzzle.
A garbage can for his torso
Fuel fuel with attached ping pong ball for antenna
Card tube for the head
Upturned bowls for feet
Two ping pong balls for eyes
Roll of card for eye casing
Silver gloves for hands
Flexible conduit metal for legs and arms
Tape everything into place and spray over with silver paint using a black marker/Sharpie for detailing.
Now that you've made Bender's robotic outfit why not check out the other Futurama character's costumes and go as a group for Halloween with Leela, Amy Wong and Fry (more tutorials to come in due course).