Recently I've been adding more Futurama costume tutorials to the blog as I'm a huge fan of the series, it's my favorite animated show after Simpsons (I'm definitely a Matt Groening fanboy) sorry Seth MacFarlane. I guess it combines the best elements of Simpsons i.e: wacky humour and character with the best parts of Star Trek i.e: fun science fiction action.
Futurama is a comedic animated show about the adventures of Plat Express's delivery team in the year 3000 consisting of Fry, Leela, Bender, Professor Farnsworth, Amy Wong and Zoidberg.
At the time of writing I have complied instructions for most of the Planet Express crew except Zoidberg which will be added in due course. Either check out our full tutorials or flip through our quick pointer below with direct links to the official outfits if you don't want do it yourself guides. 
Fry Futurama Costume
I love that there is an official Fry Futurama costume available with everything you'll possibly need to transform into the character including red jacket, pants and orange wig. Just add your own footwear and a can of Slurm and you're ready to go.
If you want to create this outfit from scratch yourself the best place to look for items is the thrift store if you don't already own them. You'll need blue jeans, a red wind breaker, white shirt and finally an orange wig or use your natural hair and apply orange spray dye.
Bender Futurama Costume
Adult Bender Costume Standard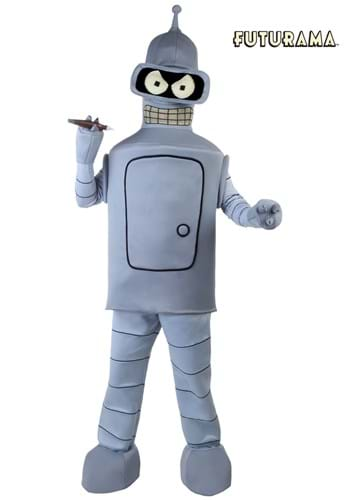 Adult Bender Costume
Next up is Fry's trusty robotic friend Bender.There are two options for Bender's costume at both Halloweencostumes.com and Amazon. Both reputable retailers, closer to Halloween check pricing to see if you can score a better deal than at Amazon. Either way it's a good idea to have multiple option in case one goes out of stock.
Both sets come with tunic with attached headpiece which you can wear over your existing clothes to keep warm depending on the weather where you live, pants and hoop. Create this yourself from scratch by piecing together separate components such as garbage can as his torso and cardboard tube for a head and spray painting everything in silver adding details with a black marker.
Leela Futurama Costume
Womens Futurama Leela Costume Kit Standard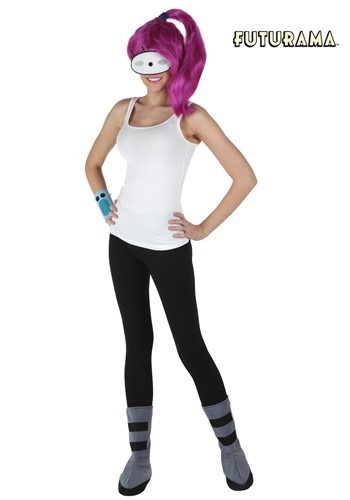 Womens Futurama Leela Costume Kit
Last but not least out of the three main characters who are most popular to dress as for Halloween, Leela the one eyed alien. Leela and Fry above will work well for couples aswell as friends or siblings.
These premade outfit sets are handy because you don't need to create your own eye masks which are tricky. Both sets include mask, wig, wristbands and boot covers. There are several way to create your own eye masks, such as using horse fly masks or protective eye goggles.
Professor Farnsworth Costume
Let's not forget little old Professor Farnsworth who is head of operations at Planet Express as Fry's great grandson from the future. Unfortunately there is no official costume available for this character however that doesn't mean with a little imagination you can't construct an accurate outfit.
Start with a pair of coke bottle glasses for that boggled look, or pair two plastic shot glasses together with elastic using a hot glue gun to create his glasses. Then add a standard white lab coat and finish with mint green slippers.
Amy Wong Costume
The final tutorial on the blog for you to check out (for now) is Amy Wong's outfit. She is a character that doesn't get as much airtime as the rest and when we do see her she is either being dimwitted or the brunt of one of Professor Farnsworth's jokes.
Her outfit is fairly simple to construct consisting of a pink tracksuit and black spiky hair which you can replicate using plenty of gel or a wig.