Han Solo is a main character from both Star Wars trilogies played by the talented actor Harrison Ford. The story focuses around the adventure of Han and his co-pilot Chewbacca, as they become part of the Rebel Alliance opposing Galactic Empire.
This year Star Wars has seen another surge in popularity with a new movie out later this year (2015) for now I predict Star Wars themed outfits will be popular for Halloween.
Therefore following yesterday's guide on Princess Leia's costume today we present a Han Solo costume DIY tutorial covering all elements of his outfit including: black vest, white shirt, belt and gun. Aswell as official outfits for those who don't want to go to the hassle of creating their own. 

Han Solo Costume for Adults
Star Wars Deluxe Hans Solo Costume, Black/Blue, Standard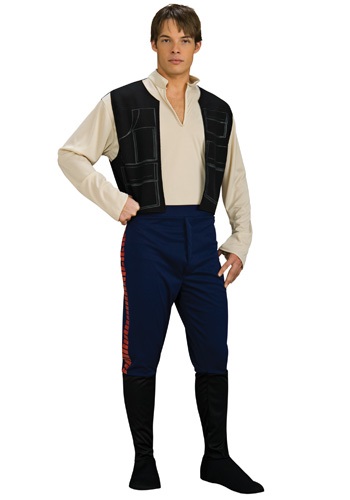 Han Solo Adult Costume
Here's the two most popular Han Solo outfits for adults on Amazon and Halloweencostumes.com. Each set has everything you'll need to transform into the Star Wars character including: shirt with attached vest, pants and boot tops.
Reviewers praise the design which is screen accurate and well made. Check the price differences between retailers closer to Halloween when different seasonal deals run.
Han Solo Costume for Child
Star Wars Han Solo Costume Deluxe Boy – Small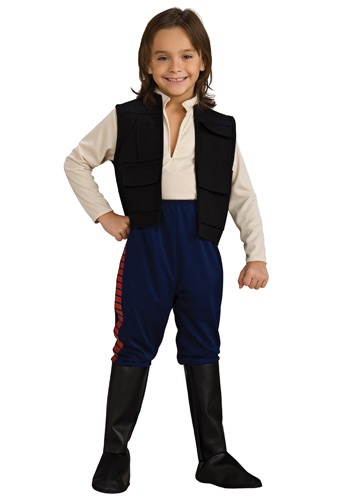 Deluxe Han Solo Child Costume
There are Star Wars fans young and old, so kids don't have to miss out this year with these choices of Han Solo costume for them. Each set includes vest, pants with trademark red stripes down the side and boot tops. Add a separate play gun and holster set and your child will be ready to oppose Galactic Empire.
Han Solo Costume Guide
You'll Need: White shirt, black button down shirt, blue pants, red corellian bloodstripes, red ribbon. 
Before you start prewash both shirts in preparation. Begin with your white shirt, draw where you'll made a 'V' slit a few inches down from the collar. Cut the 'V' slit and keep the edges from fraying by hemming a spare scrap of white fabric around the edges. Cut the sleeves to three quarter length and use this material to create a collar. Finish by hemming the sleeves.
Next we'll move onto his black vest which will be created from your black button down shirt (which can be found affordably at your local thrift store). After a pre-wash begin cutting away collar, button placket and sleeves to create a simple vest shape using bias tape around all edges for a neat finish. Create a guide of where you want the front pockets to go and use the excess black fabric to create them.
After that the final piece of the puzzle his trousers, these are simple enough if you know what you're doing with a sewing machine just tedious. You're simply adding the corellian bloodstripes to a regular pair of pants.
Make Han Solo Blaster
Smiffy's Men's Belt And Holster, Brown, One Size
Star Wars Hans Solo Blaster
There's so much conflicting information online about how to make Han Solo's blaster and gun holster set, and it's incredibly difficult to get hold of all of the relevant parts unless you're handy with crafts yourself. So in interests of keeping things simple we're going for recognizability here not screen-accuracy.
Start by outlining the shape of the gun on wood. Carve around the trigger and grip using a dremel or similar tool. Make the gun barrel from a wood dowel then glue it to the body. Cut two pieces of hardboard and glue them to each side of the barrel.
Make the scope from wood dowels and another funnel section an glue a small diameter tube onto the end of the scope. Make the scope bracket from a piece hardboard and a dowel then secure it to the blaster with screws. Finish off with several layers of black spray paint.