If only Disney's Big Hero 6 was released in September or October rather than November of last year! It would have been a huge theme for Halloween. Nevertheless as the characters and plot remain popular and I don't see any signs of that slowing down I predict Big Hero 6 costumes will be popular this holiday season and reignite people's interest in the movie.
Big Hero 6 was different for Disney in many ways, firstly it was the first Disney movie based on a Marvel comic and you could definitely tell.
Also it showed that weird and wacky could be cool showcasing a geeky super genius as the main character which main children (and adults) can relate too.
Today I want to piece together a Honey Lemon costume, not one of the most popular characters like Hiro, Baymax or Gogo but still a firm fan favorite that would be perfect as part of a group cosplaying as all the different characters.
Honey Lemon Superhero Costume
Disguise Honey Lemon Deluxe Costume, Large (10-12)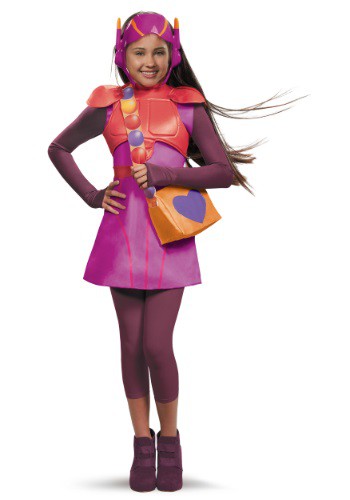 Deluxe Honey Lemon Costume
This is one of the few official costumes available for Honey Lemon's character and features her full purple superhero getup as opposed to her bright yellow outfit which we'll discuss in detail below. It's expected for August 14th 2015, but available for pre-order before then.
This is the perfect outfit to pull together from thrift store items, as a scientist at the San Fransokyo Institute of Technology you would expect Honey to wear a simple white lab coat and a pair of geeky thick rimmed glasses however you get the complete opposite which is a rather vibrant and fashionably dressed chick that suits her name perfectly.
Honey Lemon Big Hero 6 Costume
Fashion Womens Boyfriend Pocket Cardigan Shrug
There are several yellow components to Lemon's attire starting with her 'lemon' yellow cardigan, underneath this she wears a light yellow dress/sweater. These two items are something you may find in your existing closet or would have to source in a thrift store.
Keep in mind appropriate yellow clothing items may be hard to find in a thrift store the first time round as it's not a common color people wear everyday. You're best bet is to check back multiple times in different local thrift stores as new stock cycles in often to find what you need.
Take all the hassle out of thrift stores and all that jazz by checking out the items at Amazon which can be shipped straight to your front door which is perfect for time sensitive situations like the holidays when you can't waste time looking for something you might not be able to find.
Honey Lemon Glasses
Now one stereotypical item she wears is a pair of thick rimmed glasses, being a scientist and all it's what you'd expect however they aren't plain black but bright pink. Find a pair at your local thrift store and take out the lenses. Alternatively use an old pair of 3d glasses you get from the movie theatres, pop out then lenses and paint the frames pink.
White Tights
D&K Monarchy Women's Seamless Capri Thin
Her dress/shirt may be short but don't worry she has you covered literally with a pair of footless white tights. Alternatively pull on a pair of leggings or even skinny jeans depending on what's most convenient for you.
If you're going the do it yourself route remember compromise is the best way to get your outfit created on time and as long as you have the right colored pieces in place even if they aren't exactly like the character's no one will notice.
Honey Lemon Wig
Anogol® Free Hair Cap+ Hero Honey
If you thought we were done with yellow you were sadly mistaken, the last pop of color comes in the form of Honey Lemon's headband, nicely framing her face and keeping back her long honey colored hair. You'll also want to pick up a light blonde wig if you're hair isn't naturally that color. Here is an official Honey Lemon wig not including yellow headband.
Footwear
Let's move onto footwear now, Honey Lemon wears a bold pair of yellow wedge heels, totally not what you'd expect from a scientist but this isn't any scientist after all this is Honey Lemon with her own unique way of doing things. Pair these wedges with a pair of white ruffle socks.
Honey Lemon Makeup
Makeup is a great way to 'became' a character rather than just dressing as them however this section is optionally and shouldn't affect your enjoyment of Honey Lemon's outfit.
Check out this three minute guide that you can use as a rough guide of the look you're going for. Start with no makeup and pull your hair back into the yellow band. Then she uses really large contacts as Honey Lemon has considerably large eyes, check those out yourself as I'm not listing them here.
Next take a dark foundation and dot it on all the areas you'll contour namely cheeks, nose and forehead. Take a light foundation on the areas you want to highlight (everywhere else). Blend it in with alternate side of your brush. Set it with powder.
Apply a light beige color onto your eyelids now up to the tear duct. Next highlight your brow bone with the lightest white you can find. After that line your eyes with black gel liner for extra precision creating a wing. Finish off your eye with your favorite mascara and add large lashes (you want as much length as possible).
For your lips apply a cherry lip gloss and a soft peach color for your cheeks. Note: the artist's glasses were the only thing not bought, they were painted orange which is a different take on her pink glasses listed above.
Honey Lemon Purse
Don't forget Honey most important accessory! Her prized purse that can fit almost any item she needs whether that be day to day as a scientist or as a super-villain fighting hero alongside Hiro and his superhero gang.
Keep the purse small either a smallish satchel or envelope purse that would hold a few items, think of Honey Lemon's purse as a Tardis (small on the outside but big inside).
What I really love about Big Hero 6 is it opens Disney up to a whole new type of fans who may have never watched a Disney movie otherwise, so you don't need to be the most stereotypical Disney fan to enjoy this costume for Halloween and what better way to enjoy yourself than go as a group.
There are already Hiro Hamada and Gogo Tomago outfit tutorials on the site for you to check out with more on the way, so keep and eye out for those on the blog.