♪ It's beginning to look a lot like Christmas ♪, with stores gearing up for the festive season already with jolly Xmas decorations and trees already being put up and it's barely Halloween. It's that time of year again where the weather get's chilly and all everyone wants to do is watch feel-good movies and eat turkey with the family.
So it'll be no surprise this year when the Grinch starts showing up on our screens in How the Grinch Stole Christmas. While we want to feel good during the festive period it's ironic that a lot of the most popular festive characters don't actually like Christmas themselves.
This hasn't stumped his continuing popularity and this year we'll be seeing quite a few people dressed as the Grinch, carolling or being jolly around your neighbourhood. If you want to dress as the character this year look no further, we're here to help with premade Grinch costume options aswell as do it yourself tutorials.
The Grinch Costume
elope Dr. Seuss Santa Grinch Costume with Mask Large/X-Large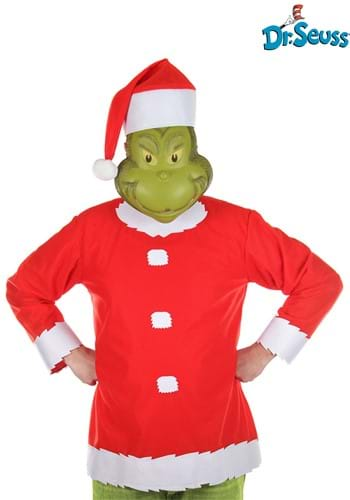 Adult Grinch Costume Top Hat and Half Mask
The Grinch is a character created by Dr Seuss that despite his festive attire doesn't enjoy the festive season, it's a movie about how a little girl called Cindy Lou shows him the real meaning of Christmas.
It's not about gifts or possessions but about family and festive cheer. No doubt his outfit will be popular this year as the highest grossing holiday movie of all time.
Here are two premade Grinch outfit ideas (just in case one goes out of stock you always have the other as a backup). Including everything you'll need to transform into the holiday party pooper: hat, mask, gloves and pullover.You can add green leggings and elf style boots to complete your look.
Cindy Lou Costume
Womens Christmas Girl Costume (Large)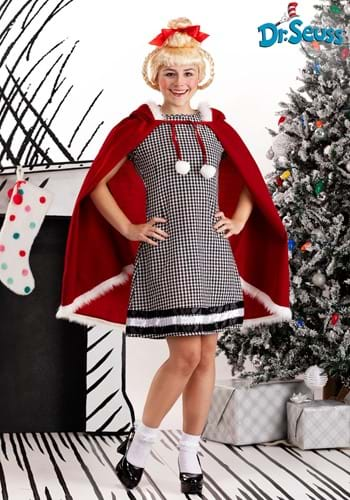 Women's Christmas Girl Costume
Do you remember little Cindy Lou from How the Grinch Stole Christmas? If so this may be the perfect seasonal outfit for you available for kids and adults alike. She wanted to restore the spark back into Christmas and take the focus away from presents and material possessions instead focusing on family and festive cheer.
Next we have two options for her outfit that come in large sizes for kids aswell as adults so everyone who is a fan can get dressed up. Please take note it doesn't come with a wig, this will need to be purchased separately. Add black dolly style shoes and white anklet socks to complete your look.
The Grinch Makeup
Wanto to get your hands dirty instead? No problem check out this nine minute video detailing how to create a similar look to the Grinch with makeup. Add a Santa coat and hat (possibly from the thrift store), green leggings and green elf style shoes and you're well on your way to a complete costume.
A great set of costumes to wear as a family after you've watched the film and familiarised yourselves with all the characters this Christmas.