You can certainly tell that I am a big Futurama fan, what I love is that all of the outfits are so easy to put together and most of them can be pulled together with items from the thrift store.
Leela (first name Turanga) is one of the key characters from the show, when Fry is defrosted and finds himself one thousand years in the future in the year three thousand she is the first person he sees. She definitely makes a big first impression as you can see a mile off that she is a cyclops, not an attribute she takes pride in.
After she decides she no longer wants to do her appointed job she joins Fry on his distant nephew's spaceship as the pilot and and manager of the deliveries.
She is often shown saving the crew from disaster but is also like Captain Zapp shown to have some inner insecurities thanks to her eye and her bad childhood experiences.
Leela Turanga Costume
Womens Futurama Leela Costume Kit Standard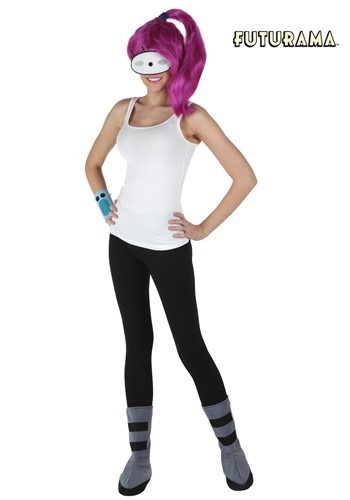 Womens Futurama Leela Costume Kit
The attire is very simple and only consists of two items, a white tank top and a pair of black leggings or pants. I assume you already have these items in your closet or at least something similar if not the thrift store is your best friend.
Perhaps the most difficult part to make is the eyes, as you know she is a cyclops unlike us humans. Going with the picture above this person has opted to leave that part out but the outfit is still effective, this makes it all the more easier to make however you can create the eye if you wish.
Above is two choices of costume kit from Amazon and Halloweencostumes.com that include eye mask so you don't have to go to the trouble of making one yourself. They also come with wig, boot covers and wristband.
Make a Leela Eye Mask
The tricky part is creating something you can see out of but doesn't reveal your two eyes behind it, there are several ways you can achieve this effect.I have seen someone use a paper plate or protective glasses although this would pose some difficulty as you would have trouble seeing out, if done smartly it could work.
If you use a protective glasses to create this, use white tape to cover the plastic and then draw a black dot in the centre for the eye, as the goggles are a far distance from your face you'll still be able to see through them.
Another popular way is to use a fly mask which is generally used for horses but you can adapt it for purpose here using a large black marker to draw on the eye. This enables you to see out clearly but no one can see in.
Leela Wig Futurama
Next is her hair, purple is not a terribly common hair color on this planet so you'll either need purple hair spray or a wig. Leela's hair is quite long and in a ponytail so use a band to keep yours in place.
Dark wigs are quite hard to find for some reason, the one pictured is my favorite for this as it is considerably darker than the others and it has a lot of length aswell.
How to Make the Wristband
The final part you have to make yourself is her futuristic wristband 'thingy', there is no need to get caught up with this. You can either use flexible card, painting it the appropriate colors using a template online as a guide and then bending it into place with some tape or using a polystyrene cup and then painting it in the same way.
I like the idea of using the polystyrene cups as you likely have a few lying around and you get the perfect shape already made for you to slip your arms into.
Footwear
DailyShoes Women's Fashion-Hi Over-the-Knee Thigh High Flat Slouchly Shaft Low Heel Boots Grey SV, 13 B(M) US
Journee Collection Womens Regular Sized and Wide-Calf Slouch Buckle Knee-High Microsuede Boot
This only thing I think this is missing is a space gun, a toy one will work well if you can find one that looks futuristic. As I have already done tutorials on Fry (here) and Zapp's costumes (here) for Halloween and cosplay Leela's costume was the next on my list. She goes perfect with both of these two characters as a couple.