Disney Pixar's newest movie Inside Out is another one that will be on repeat for a few months even years, you know how kids are!
It was a joint effort by the two companies to return to their former glory following a lot of criticism aimed at their over reliance on sequels and low quality standalone movies were becoming a norm.
In Inside Out we are welcomed into the head of the main character Riley who is going through the normal ups and downs of teenage life aswell as the stress of moving to a new city where her dad has to work.
Here we meet her five emotions keeping her ticking throughout the day personified by five different colored characters, one of these characters is Disgust who no surprise is green with contrasting tones of purple. Today I want to show you how to create a simple Inside Out Disgust costume for Halloween and fancy dress. 
Inside Out Disgust Costumes
Disguise 86940L Disgust Classic Child Costume, Small (4-6x)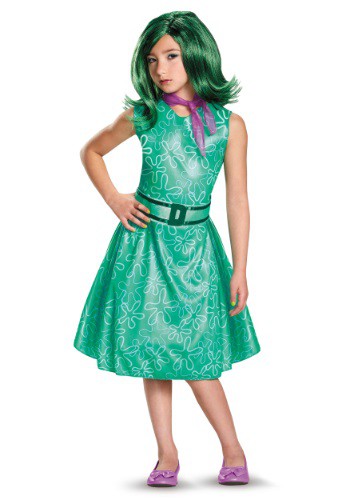 Inside Out Disgust Girls Costume
As I mentioned Disgust is not as developed as Sadness and Joy and therefore she can come across as 2d with her trademark sighs and eye rolls whenever something disgusts her. This doesn't mean you cannot take on these characteristics and create a convincing character yourself giving people a better idea of who you are although the purple and green outfit should be enough to give it away.
Next we move onto the actual costume itself, if you need something to slip on over your child's clothes in a rush these are perfect. One from Halloweencostumes.com which has this and other Inside Out themed outfits on offer. Available to order from August 7th 2015 but for pre-order today.
The other from Buycostumes.com, keep in mind this is available to order from August 14th 2015 but again you can pre-order in advance. Including green dress, belt with 'D' emblem, scarf and wig. All you have to add is purple sparkly ballet shoes to complete the look.
Inside Out Disgust Wig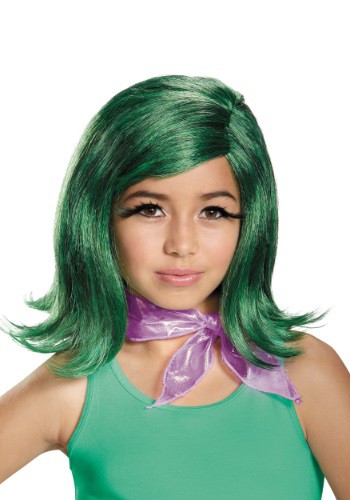 Disgust Wig
Weixinbuy Boy Short Wig Straight Wigs
Disgust isn't as developed as Sadness or Joy who feature the most however we do see what really disgusts Disgust, brocoli is her main trigger and in one memorable scene when Riley and her Mom go out to a pizza place in their new town they find out they only serve broccoli pizza.
It's ironic then that her wig and outfit would be a green (the color of broccoli) colorscheme with hints of purple thrown in. The only 'official' wig available for purchase is from Halloween retailer Halloweencostmes.com but keep in mind it is only available to order from August 14th 2015 however you can pre-order it today so it arrives well before October 31st.
It's always a good idea to have a backup on hand just in case the official wig goes out of stock around the holidays when wigs are a popular item. So here is a short bob style dark green wig from Amazon that isn't an exact replica but can be styled beforehand.
Inside Out Disgust Scarf
Premium Pashmina Shawl Wrap Scarf –
Purple and green are on the opposite sides of the color spectrum which means they contrast and compliment each other very well, so she may be called Disgust but she clearly has fashion sense.
You may want a separate scarf to accompany your costume and wig. If you don't go with an official costume and would rather piece together the items yourself opt for a green skater dress, green leggings, a pair of purple glitter ballet shoes then add the purple scarf above as your final item.
Iniside Out Disgust Makeup
Let's not forget makeup or face paint in this case. As demonstrated by the reference images leaving your face plain is totally acceptable however if you want to go that extra mile and embrace the character of Disgust as best as you can makeup is the perfect addition to your outfit.
Start with a base on green creme face paint. Apply with a sponge evenly over your face and neck areas.
Green contacts can be used to further enhance your look if you're eyes aren't naturally green.
Blend your eyebrows in with your face using green eyeshadow.
Finish with Disgust's striking pink lip-gloss/lipstick.
Don't forget to check out our other Inside Out character tutorials such as Joy and Sadness with more on the way. Dressing up as one character is fun enough but going as a group is double the fun, great for couples, siblings, families and parents and children aswell.