One of Disney Pixar's newest movies is Inside Out, and it's totally different to any other they've created in the past. Inside Out was created partly due to some criticism Disney has received in the past on its over reliance on sequels and newer movies falling short of their past reputation.
The movie plays out in the mind of a young girl named Riley who is going through moving from her childhood home to a new city where her father works. In her mind we see the different emotion personified by a different colored character who are at work keeping her going throughout the day.
With the usual: Joy, Sadness, Anger, Disgust and Fear. Each one plays an equally important role in her life. What I really think the film is about is the progression of emotions as you grow older, from blissful ignorance at a young age to a stroppy teen phase where anger and sadness play a big part to an eventual balancing and harmony of all emotions positive and negative.
Disney Inside Out Joy Costume
Disguise 86950K Joy Deluxe Child Costume, Medium (7-8)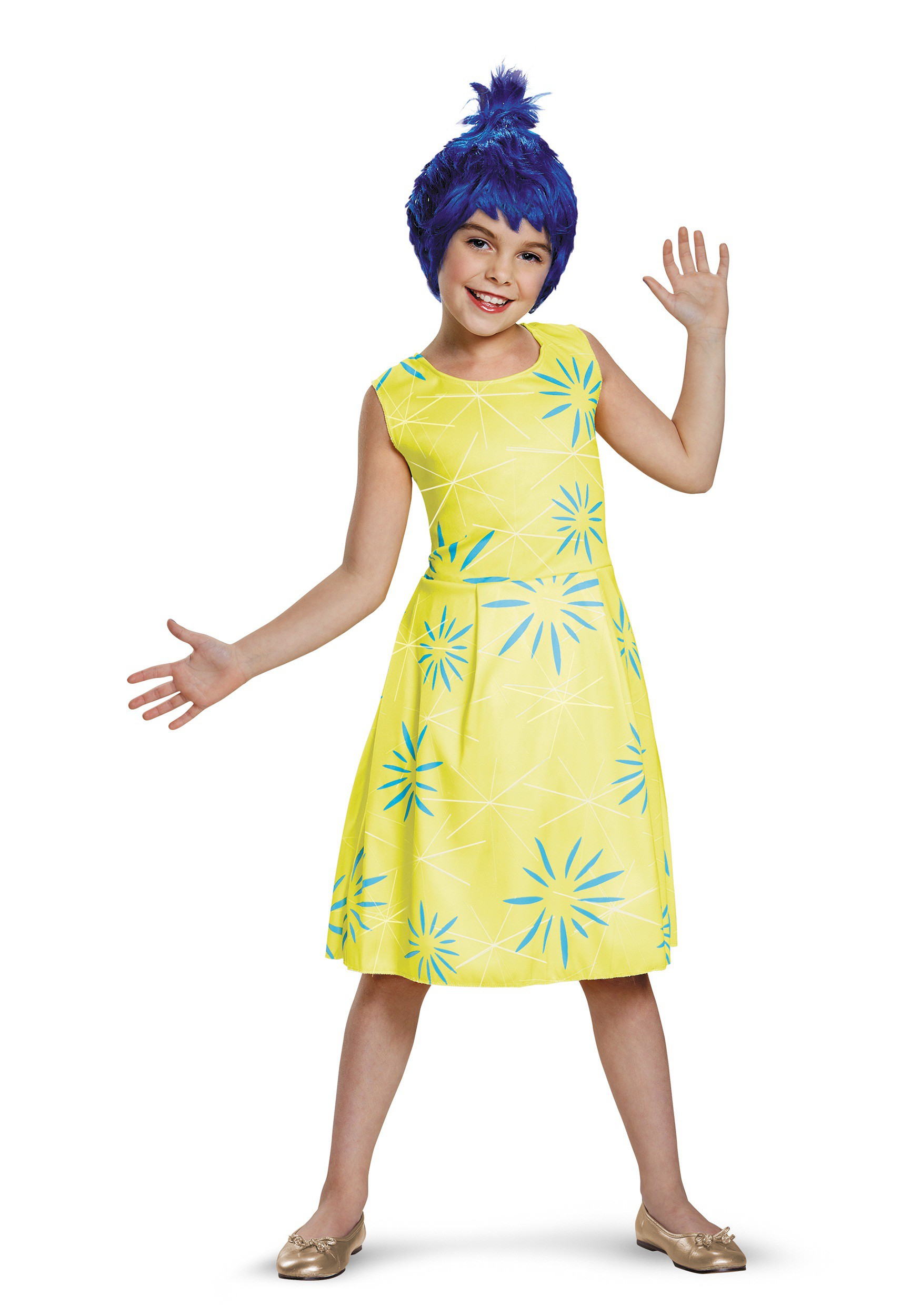 Girls Inside Out Joy Classic Costume
Joy features as one of the five emotions and plays a big role in the movie alongside Sadness, so today  I want to show you how to create an Inside Out Joy costume which I believe will be hot come Halloween and is great for dress up around the house after October.
The first thing you'll need for your Joy costume is a bright yellow dress just like her personality, start with a plain yellow dress and begin painting on the several blue 'bursts' throughout using blue fabric paint that contrast the yellow nicely and add something for your eyes to look at.
At the time of writing Amazon has no Inside Out themed costumes available however Halloweencostumes is a retailer that does have a few different choices available. Keep in mind you can pre-order these for August 7th 2015 however both are unavailable at the time of writing.
Kids Joy Inside Out Costume
Another big retailer that specialized in Halloween that supplies Joy's unique yellow and blue floral burst dress is buycostumes.com. It includes yellow and blue dress as well as blue wig so you have all you need to tranform into this character, just add your own footwear.
Exactly the same as the one above only it pre-orders for September 29th, maybe people shop for outfits for Halloween before then therefore this is a good choice if you're shopping last minute and don't need it in advance.
Inside Out Joy Wig
Blue Pixie Joy Costume Joy Wig Inside Out Costumes Inside Out Costume Joy Wig
Disguise 86959CH Joy Child Wig Costume Child
She doesn't just have blue burst patterns on her dress but bright blue hair and eyes. This can be pulled off without natural blue eyes however if you like contacts are an option, however I will not list them here as a personal preference.
If you want to create the dress yourself but need a wig to add here are two different style options to use, one from Halloweencostumes.com as discussed above and one from Amazon that isn't as true to the character.
Keep in mind the replica wig is expected for August 14th 2015, so if you check it out beforehand it'll be on pre-order and well in time for Halloween. If that option isn't available come October the alternative is a simple bob style which isn't an exact replica but will work well nonetheless.
DIY Inside Out Costume
Going the do it yourself or diy route is always a fun option for families who want to take on a fun project. It may be easier to slip into one of the premade outfits above however it's not nearly as satisfying.
Start with a yellow dress you find at the thrift store (this is a family friendly activity in itself) and begin creating a stencil for the blue floral burst shapes that adorn the dress. You can use an image of the character as a rough guideline.
Cut out your guide from thick card (cereal boxes work well) and paint the bursts onto your dress and then leave to dry. Next you don't need a wig as hair spray is just as convenient. I think you'll find after this project you'll be washing blue out of clothing or furniture for months if you don't lay down paper or plastic for protection.
DecoArt SoSoft Fabric Acrylics Paint, 1-Ounce, Primary Blue
jerome russell B Wild Color Spray, Bengal Blue, 3.5 Ounce
Inside Out Joy Makeup Tutorial
It's not just her clothes that are bright and make a statement but her face and body which gives off a soft glow. The closest you'll come to that is using face paint to achieve a similar effect. Check out this simple five minute tutorial for all the pointers you'll need regarding that.
Start with a base of your favorite lotion or cream to give your face a nice glow before beginning with the face paint.
Add your yellow face paint with a sponge evenly to face and neck areas.
As paint doesn't go well onto eyelids prime and add yellow eyeshadow for the same effect.
Color eyebrows with blue eyeshadow for a cohesive finish.
Finish with pink lip gloss.
While Joy aimed to control almost all of Riley's emotions when she was younger and didn't quite understand Sadness's place, within time she learned that Riley couldn't be completely happy without balance and so she gave the reins over to Sadness exactly when it was needed.
The only aspect of Joy's look that you can't physically reproduce is the natural soft yellow glow she emits at all times, a physical manifestation of the constant happiness and optimism beaming out of her.
The only way to have more fun than going solo is gathering a bunch of your friends or family together this Halloween and all go as different members of the Inside Out group, which ever character represents each person the best. I'll be adding each character's respective outfit to the site in due course so keep an eye out.