It was only a matter of time before I covered how to create your own Jack Skellington costume from Tim Burton's eerie Christmas themed movie that also stars Jack's love interest Sally.
The story goes that one year Jack decides it's the perfect time to try out Christmas even though he normally lives in a fantasy realm where only Halloween exists, the results are predictably comical.
Not only is this outfit perfect for Halloween when scaring people is customary but also during the festive holiday season too, instead of getting into a Santa Claus costume to come down the chimney why not play Santa at his own game.
The character is known for wearing a black and white pinstriped suit with bat like bow tie, and from time to time a pumpkin on his head when he becomes the pumpkin king. 
Jack Skellington Cosplay
Jack Skellington Child Classic Nightmare Before Christmas Disney Costume, Medium/7-8
Disguise Men's Tim Burton's The Nightmare Before Christmas Jack Skellington Classic Costume, Black/White, 38-40
First start with finding a suitable pinstriped suit, this reminds me of what Sheldon Cooper wore in The Big Bang Theory as the Doppler effect but no one else knew what he was, at least you won't have that problem here.
Look for black and white striped pinstripe suits with pants to match that have a large opening at the chest, then wear a ruffled shirt that will make good use of that open chest area. We're going for a colonial/Victorian look here.
For an easier option go for this premade outfit that comes with suit, tie and shirt bib. Use your own shirt if you'd prefer and add black dress pants and shoes then do your makeup to complete the look. Two options are laid out above to give you a backup nearer to Halloween when items go in and out of stock, also prices can be competitive against Amazon.
Jack Skellington Bow Tie
elope Jack Skellington Accessory Kit, Black/White, One Size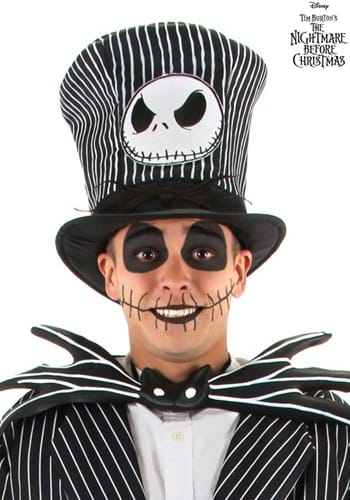 Jack Top Hat
The next step is creating the bow tie, pretty simple although it does require patience working with fiddle materials. Gather stiff black felt, white paint, clip, sewing supplies. Look up reference images online of the bow tie to have a guide to work from.
Then take your felt and start cutting out the bat head shape and wings. Using white paint add in the white accents where needed onto the bat's wingspan then add eyes its headpiece.
Now sew each individual piece around the clip which will be used to keep the tie in place on your shirt, wings first then head second. The perfect bowtie is included above as part of an accessories kit alongside top hat and gloves. I've also picked out an individually top hat aswell.
Jack Skellington Mask
Disguise Men's The Nightmare Before Christmas Jack Skellington Mask, One Size
As I mentioned above makeup is only compulsory if you don't want to wear a mask, otherwise here is the perfect mask to disguise your face and match your suit and tie.
This is by a popular option with excellent detailing including eyes and broken teeth, made of vinyl it's easy to wash as well as comfortable to wear.
The last part to consider to get your look just right is his hands, being a skeleton he has a set of long spindly digits, wear a pair of white gloves and paint details on with black marker/paint to achieve a bony look.
Jack Skellington Makeup
For most cosplays makeup is optional but here unless you use a mask you'll need to disguise your face and the best way to do that is using makeup or face paint.
https://www.youtube.com/watch?v=iz6jt_VE_hY
The guide chosen is shorter than most because the artist uses a wig instead of a bald cap which takes time to paint and dry. If using a bald cap for added authenticity simply paint it all over paying special attention the seam that meets your forehead until it's not noticeable.
Begin apply white creme paint (with or without water) to your face, ears and neck. Use a thick black liner to create circles around your natural eyes aswell as onto the eyelids, set with black shadow. Rectify any mistakes and smooth out your circles with white creme paint on a thinner brush.
Now draw a black triangle onto your nostrils and fill in with liner. After this blend the lips into your face by applying more white creme here. Draw black lines from the corners of your lips to each ear. Next draw in Jack's lips thinly. Finish off your lips by drawing in teeth all the way up to each ear.
I also have a Sally tutorial for you to check out if going as a couple.