I remember sitting down to watch episodes of Johnny Bravo as a child, just like everything on Cartoon Network it was quite wacky and out there but I loved watching it.
It originally started out as a set of shorts but was so popular the network had to commission it for a full series, and I can certainly see why.
It's about a guy who looks a little like Elvis Presley (but that's where the similarities end) and sees himself as something of a ladies man who ends up in weird situations in pursuit of a woman but normal doesn't succeed.
This is a great costume idea and simple one at that for anyone born in the 90's or anyone else who has seen the show and loves this character. Most of the items can be found at the thrift store if you don't create the wig yourself. 
Johnny Bravo Costume
Fun Costumes Mens Johnny Bravo Costume X-large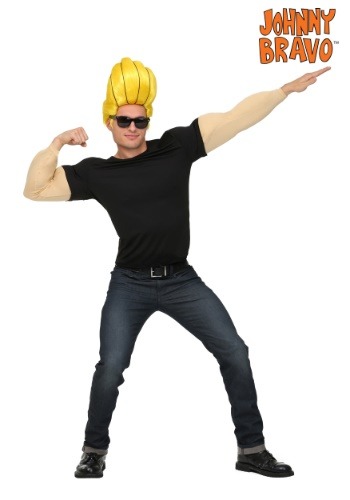 Johnny Bravo Costume
First let's focus on the clothing, his outfit is pretty simple and it's likely you already own these items.
First a black crew neck short sleeved t-shirt. For underneath the t-shirt you want abs or fake ones at least. The last three items are blue pants or denim jeans, black shoes.
Here is a crew neck you can use, I won't list jeans as I am sure you have a pair laying around if not the thrift store is always the best bet.
Don't forget the shades to cover your eyes, Johnny needed an accessory that would make him look cool although that wasn't the exact result he got.
Johnny Bravo Wig
The wig is perhaps the most time consuming aspect of the overall outfit depending on what avenue you choose. There are three different ways you can do the hair.
The first way would be to use a wig, in this case Elvis wigs are the closest to Johnny's style however they are in black not blond so you'll have to use a short blonde wig and sacrifice the length (or dye the Elvis wigs).
Above (pictured) is a suitable short blond wig you can use, as I said not exactly like the Elvis style but it will do without the hassle of using foams, paints and hot glue.
The second option is to use your natural hair if you have sufficient length, the two tools you'll want at your disposal are yellow hair spray and plenty of hair glue. If your hair is dark to start with it'll need a first coat of white so the blonde spray shows up better.
The final way to create the hairstyle is using E.V.A foam, hot glue and yellow spray paint, find out how to do that here, use felt pens to add in the final details.
Now that the outfit is complete you can go out and impress the ladies, or at least attempt to. Have fun!