It was only a matter of time before I began adding Star Wars themed guides to the blog, we already have a few on Han Solo and Princess Leia but I thought now was as good a time as any to add more. So today we'll be working on Kylo Ren Force Awakens costume.
Star Wars: The Force Awakens is taking the world by storm and at the time of writing is on track to become the highest grossing movie of all time, the tally currently stands at $1.1 billion already so still a long stretch behind Avatar but it won't be long before it becomes the third movie to gross over $2billion *fingers crossed*.
We'll be covering all the items you'll need, things might get a little hot and stuffy (there are tons of layers) including clothing, boots, mask and lightsaber..of course! 
Kylo Ren Costume for Adults
Star Wars: The Force Awakens Deluxe Adult Kylo Ren Costume,Multi,X-Large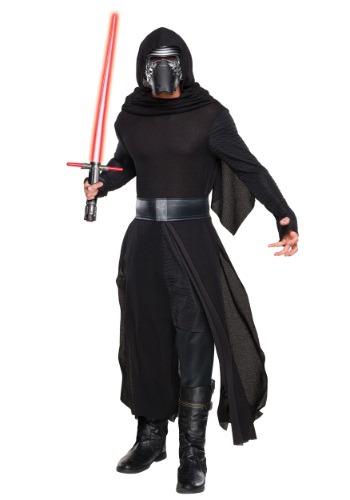 Adult Deluxe Star Wars The Force Awakens Kylo Ren Costume
The first item you'll need before you begin piling on the layers is a pair of black jeggings, these are easy to find at most big stores for a few dollars although you could check online too. You'll also want to scout out a pair of black knee high boots. Keep in mind the boots currently on sale for this cosplay look similar to rainboots with an embossed finish.
Let's run through some of the pre-made outfits that are already available and can be put on in a rush without having to worry about fabrics and thrift stores.
First up here are a few options for adults available in standard to extra-large sizes and includes: black robe, cape, belt and mask. Just add your own pants as boots. Red lightsaber sold separately so be sure to pick that up too.
Kylo Ren Costume for Kids
Star Wars: The Force Awakens Child's Deluxe Kylo Ren Costume, Large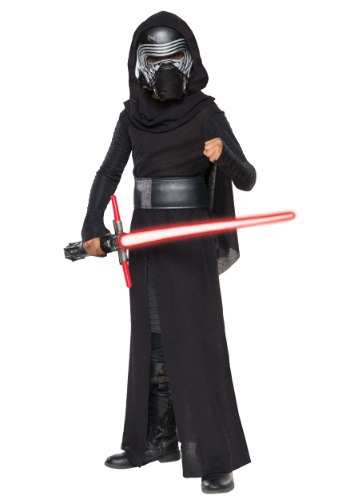 Child Deluxe Star Wars The Force Awakens Kylo Ren Costume
Now let's move onto options for children, Star Wars Force Awakens has fans across all age demographics so it's imperative we have options for all age groups. Doesn't matter your age, everyone should be able to get in on the fun!
Here are two options from Amazon and Halloweencostumes.com, I've included both just in case one goes out of stock (with the popularity of the movies chances are one will) so you always have a backup. Includes all items listed above, wear your own boots and pants just the same and purchase lightsaber separately too.
Kylo Ren Helmet
Star Wars: The Force Awakens Child's Kylo Ren Half Helmet
Next up you'll need a mask as Kylo Ren's face is covered up for quite a chunk of the movie. Here is a 'half helmet' that will cover the front of your face (one size fits everyone from kids to adults). Some masks even have faux battle damage included to mimic one pivotal scene in the film.
Kylo Ren Lightsaber
Star Wars: The Force Awakens Kylo Ren 3-Bladed Lightsaber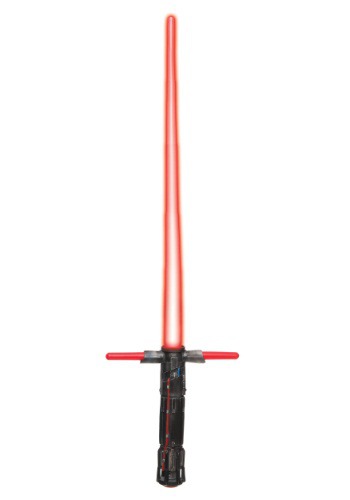 Star Wars The Force Awakens Kylo Ren Lightsaber Accessory
No Kylo Ren cosplay would be complete without his red lightsaber, as I mentioned above none of the costume sets included this so it's something you'll have to buy separately. Don't forget this crucial element or you'll be extremely disappointed come cosplay or Halloween season.
Here is Kylo's blazing red 3-Bladed Lightsaber made of polyester that makes the perfect final addition to your attire. Thankfully it cannot do any real harm unlike the movies so perfectly safe to play with. 
Before you leave don't forget to check out our other Star Wars themed tutorials, at the minute we have guides on Han Solo and Princess Leia but are always adding more each week. Also check out our social media pages linked above especially Pinterest where we are  most active.
Please feel free to leave any comments, suggestions of queries you have in the box below and I'll get back to you as soon as possible, I love hearing from our community!