Over the coming weeks I'll be slowly adding Futurama themed costumes to this blog as I have just started watching the series starting from the beginning and I am loving it so far.
What I love most is that the show doesn't take itself serious and you have Simpsons-like elements (after all it is created by the same person i.e Matt Groening) such as the offbeat but funny comedy and character design but it also has a unique aspect about it with the sci-fi.
A Fry costume is great for Halloween and cosplay and works well with Leela's outfit as you can go as a couple or Bender and the other characters as you can go as a group. It's also ideal as it's no sew, no need to do anything fancy or complicated simply gather the right clothing and slip right into it, STRESS-FREE!
The series starts focusing on Fry and the unfulfilled life he leads as a delivery boy, it is not until he is accidentally cryonically frozen and then woken up a thousand year later in the thirty-first century that his life takes a turn for the better. Even with no family apart from a distant relative in the future he finds a place in the futuristic society to call his own.
Ironically enough his ends up becoming a delivery boy again in the 3000's only this time to his nephew Professor Farnsworth, but he actually enjoys it because even boring jobs can be fun in the future. He refused to have a career chip embedded in him so he is doing it on his own free will.
Fry Futurama Costume
Mens Fry Cosplay Medium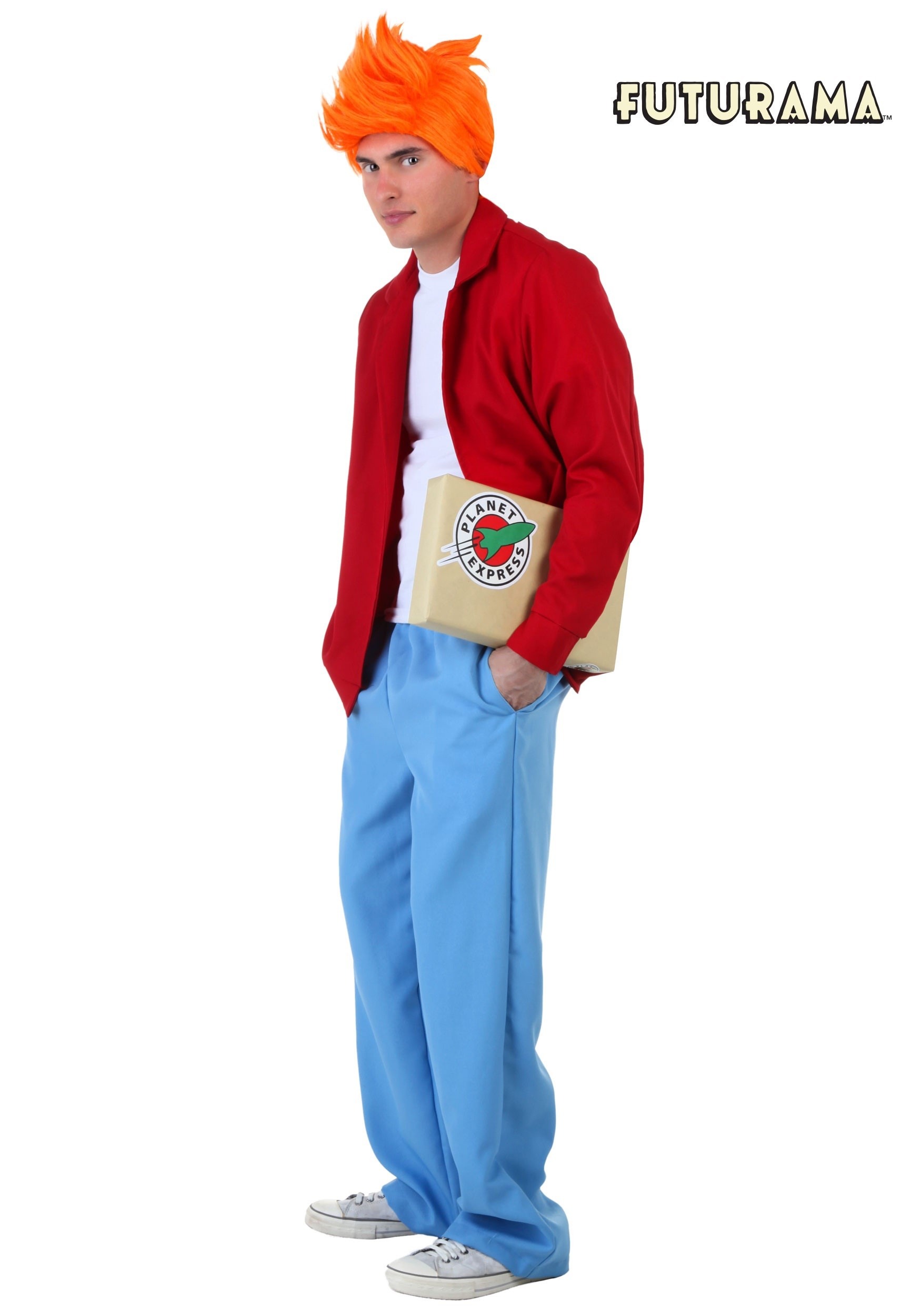 Fry Cosplay
Upon updating this article for Halloween this year I found a few Fry outfits that were on sale that are great for people who don't want to put together all the individual items piece by piece. These sets include the red jacket, blue pants and orange wig. Just add a pair of shoes and Slurm can (optional).
Fry Futurama Wig
Kadiya Short Orange Anime Cosplay Wig Fashion Synthetic Hair for Boy
For the hair Fry is ginger so you'll need an orange wig. His hair is probably the hardest pair if you make yourself but even then it's relatively easy to do with some hairstyle to get it into shape. Or you can check out the wig I've chosen for this character, although not an official piece it will work well.
Fry Futurama Jacket
Hanes Men's Full Zip EcoSmart Fleece Hoodie, Deep Red, Medium
Next is the red jacket which goes over the white t-shirt, again simplicity is key and anything that you can find will go well as the one in the show is not detailed or anything.
First off you'll need a plain white t-shirt, a regular one you can do. If you raid your closet or the thrift store chances are you'll find one you already own or be able to pick one up for a few dollars.
Jeans is the next item, a single pair of blue denim jeans, nothing fancy. Again the thrift store is a perfect place to find some however most people own a few pairs already.
Black and White Converse
Converse Unisex Chuck Taylor All Star Low Top Black Sneakers – 5 D(M) US
Footwear is the final part clothing wise and these are easy-peasy too don't you worry. A pair of black and white converse shoes are what you'll need.
Slurm Drink
What is it with Matt's characters and their obsession with a certain kind of drink? You have Homer who just loves his Duff beer and then Fry who loves his Slurm cans.
Carry a can around with you to what ever event you are going to help people have a better idea of who you are although the bright orange styled wig should give it away. Here is a Slurm can cooler that will work well to disguise any can of drink as Slurm and will work perfectly for this cosplay.

This is suitable for people of all ages however at the time of his freezing Fry was in his 20's, he wasn't quite as smart as someone of that age so younger people can take on this character too all the way from little kids to grown men.
The only way to make this outfit more fun to wear would be to go as a group, triple the fun. You can go as a couple aswell with someone dressed as Leela.