With the new Star Wars movie coming out later this year (2015) Star Wars costumes have seen a resurgence in interest especially Princess Leia, readers have been searching the blog for her outfit recently but have found nothing so it's about time I rectified that and added a Princess Leia Costume tutorial.
Princess Leia Organa of Alderaan is a character from Star Trek portrayed by the talented Carrie Fisher and acts as one of the main female leads. From the original Star Wars trilogy we find that she's both the twin sister of Luke Skywalker aswell as the romantic interest for Han Solo.
Her outfit is perhaps the most simple of all the Star Wars characters as it consists of a simple white outfit, two buns either side of her head and a trusty weapon so she can kick ass. Below are options for doing it yourself aswell as premade official costumes that are easier for those in a rush without a crafty bone in their body. 
Women's Princess Leia Costume
Secret Wishes Women's Sexy Princess Leia Costume, White, M (6-10)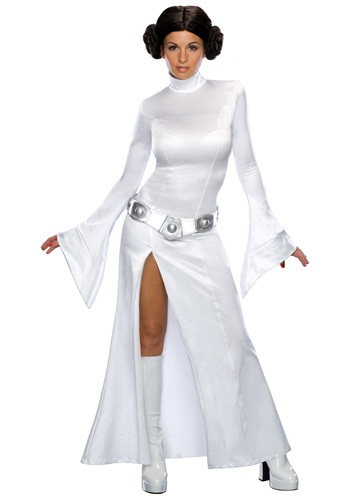 Princess Leia Adult White Dress
First off here's an official Princess Leia costume for women that perfect for those in a rush who want something ready made to slip into (if you want do it yourself instructions check below). Includes dress with belt and wig.
Add a pair of white knee length boots and you're ready to defend the galaxy. Check out Halloweencostumes.com if Amazon is out of stock during the busy holiday shopping period, plus you never know what deals they'll have on.
Princess Leia Costume for Girl
Star Wars Child's Deluxe Princess Leia Costume, Small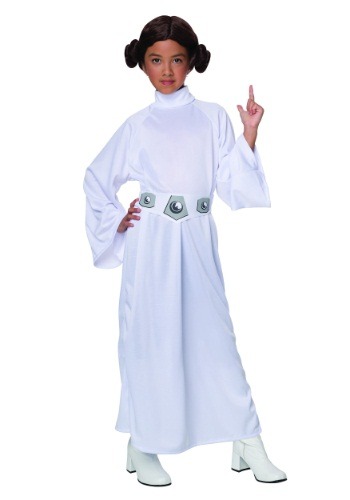 Child Princess Leia Costume
Princess Leia is a popular choice for girls at Halloween too and why should they miss out when they have this child's costume in smaller sizes. Moms and daughters can match and go as a pair with the boys of the family dressing as Han Solo.
Princess Leia Headband
Rubie's Costume Women's Star Wars Princess Leia Headband, Brown, One Size
Buying a separate headband with head buns attached is a popular choice if you want a different look or are making her robe from scratch, this can be done with a regular white bedsheet as explained below.
Princess Leia Robe
To create her white robe is surprisingly easy if you know what you're doing, the easiest way I've found by scouring through numerous articles and Pinterest boards online is using a simple white household bed sheet that is the appropriate size (depending on if it's for an adult or a child).
Oh the humble bed sheet, perfect for making a variety of Halloween costumes.All you need to do is fold across twice and cut four inches off the corner to create the head hole.
Unfold and it's ready to wear, simply pop your head in. Then add a silver belt to add shape, a pair of knee high white boots and you've completed Leia's trademark look.
Here's are perfect example (pictured) of how your robe should turn out.
How To Do Princess Leia Hair
There are many ways you can go about replicating Princess Leia's unique hairstyle which consists of two large buns either side of her head. One way many people do it is by use of crochet buns tucking their natural hair away at the sides. Another popular way is using socks, yes socks, to create sock buns.
Start applying mousse onto your hair to give it a nice sheen. Then you want to get the tops of two black socks for a similar color to your hair. Now part your hair in the middle and create two ponytails.
Pull the sock tube a third way up your ponytail wrapping the ends back into the sock and tuck in then being twisting up until all hair is in the sock. Wrap any messy stray hair around the bun and use a bobby pin to keep it in place.
So there you have it, in simple terms how to create Leia attire for Halloween, don't forget to check back often for more Star Wars tutorials in the future as this is my first!