Roald Dahl's book Charlie and the Chocolate Factory was one I consumed as fast as humanely possible as a kid, it wasn't long before I was watching the movie (the modern reboot) featuring Freddie Highmore and Johnny Depp and my love for it only grew.
The character we are focusing on today is the third of five to find Willy Wonka's golden tickets, is a competitive gum chewer and totally ignorant with a nasty attitude. I'm sure you can easily guess who I'm on about.
As Charlie and the Chocolate Factory tutorials are popular on the blog today I've decided to add a Violet Beauregarde costume tutorial covering all you'll need including her outfit after blossoming into a giant blueberry.
Violet Beaurgarde Blueberry Costume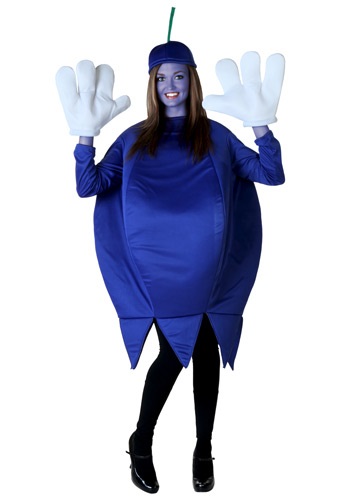 Adult Blueberry Costume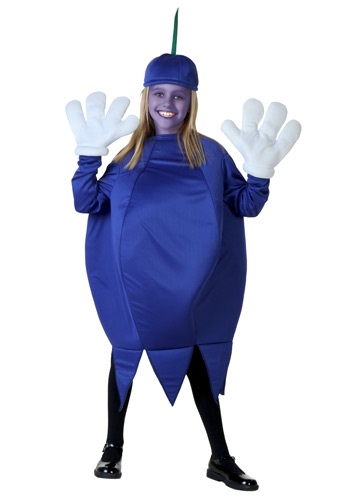 Child Blueberry Costume
One of my favorite scenes from the film was when Violet has her turn in the spotlight, as an expert gum chewer she had her opinions when Wonka unveiled his gum invention, only it wasn't yet safe for human consumption. Violet being Violet totally went against Wonka's warnings, ending with predictably amusing consequences.
Within a few seconds Violet had blown up into a giant blueberry, it was then up to one of Willy's trusty Oompa Loompas to take her to the Juicing Room where she'd be pressed to normal size.
Here are two different blueberry costumes from Halloweencostumes.com for both adults and children. Both include blue colored hat and tunic which can be easily worn over your existing outfit to keep your warm during cold Halloween (depending on where you live).
Keep in mind: when you check out Halloweencostumes.com selection of blueberry outfits both chosen above show as 'exclusive' however I managed to find both over at Amazon.com for a similar price.
Adult Blueberry Costume (Standard)
Big Girls' Child Blueberry Costume Standard
Forum Novelties Blueberry Costume, Blue, Standard
Here are the two similar outfits I found at Amazon that will work perfect for this character with an added bonus outfit for men with a similar design to the other two. It includes cap and fruit tunic with sleeves. As a gender neutral look men and woman can pair up (great for couples).
Violet Beaurgarde Inflatable Costume
Rubie's Costume Inflatable Full Body Suit
There are several ways you can go about recreating Violet's bloated blueberry look yourself without purchasing a blue inflatable fat suit. I've seen people gather together blue balloons stuck together or wear a blue suit with a hula hoop concealed underneath to give it it's spherical berry shape.
The blueberry costumes above are perfect for Violet in the 70's take on Roald Dahl's novel however in the reboot by Tim Burton we see Violet's character balloon to more than triple in size compared to the classic. No problem, you can use this large blue inflatable body suit to pull off a similar look.
With your body suit in place all you'll need to add is blue face paint to add a blue tinge to your face, and adorn the suit with a belt and stick on buttons to resemble an outfit.
Wonka Three Course Meal Gum
Who would have thought you could actually make the three course meal gum presented in the books and movie. You'll need a chewing gum making kit to start and all three flavours to infused into your gum base.
Wonka's magical gum was designed to taste like a 3 course meal, starting with tomato soup as the first course then roast beef and baked potato finishing off with a desert of blueberry pie. Only the blueberry pie mix is not quite right.
Tomato soup is easy to recreate using tomato soup powder, next your roast beef flavouring which you can make into powder form, finally blueberry flavouring normally used to create alcoholic drinks.
Finally to add an authentic touch you'll want packaging that reflects Wonka's unique brand, foodinliterature.com has created packaging for you to use free of charge in a PDF format which can be easily read and printed by most modern computers.
Keep a pack on hand as an accessory to your costume and you're ready to go. Don't forget the Willy Wonka theme is perfect for groups and other character's tutorials are super popular on our blog.