As I am adding Futurama themed costumes to this blog as I have started watching the show from the beginning (now on series 2) I thought it would be fun to mix it up and add a Zapp Brannigan costume tutorial as he is not a main character exactly but people are still interested in him.
I like that unlike the other characters his outfit is a little different and not what they would call a 'closet cosplay' that is something you can make from clothes you already own. It means once you've created it you'll have a unique outfit that no one else has so you'll stand out at whatever party or event you attend.
As you probably know Zapp is infatuated with Leela, we are introduced to him early on in the first series where he sleeps with her and she lives to regret it. It is from this that a lot of his arrogance stems however he was already very 'confident' *cough* arrogant before.
Very quickly we find that underneath all of that vanity he's also very insecure not that that stops him from treating his sidekick Kif like a doormat.
Zapp Brannigan Costume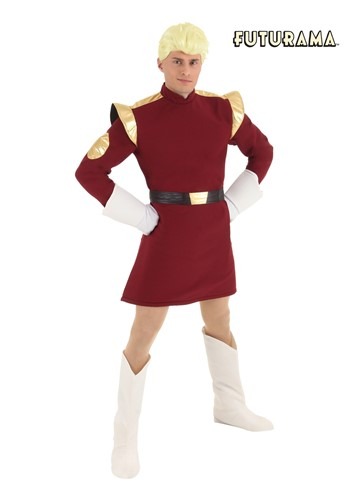 Zapp Brannigan Costume with Wig
Men Double long sleeve layer Turtleneck Top RED size XL
The first step to creating the space uniform which will be the base to work off is a red long sleeved shirt/turtle-neck or a flowing red dress for women.
This is really short, almost too short if it's too much for you try pairing red shorts with it. For the yellow space shoulder 'things' card is your best option, fold yellow card into place and staple it onto your top.
The next part is important; the belt. To create this use a length of black fabric, measure it around your waist and then sew the two ends together. Use a spare piece of gold or yellow fabric/card for the middle and sew/stick this also.
1 Pair (2 gloves) 100% White Cotton Marching Band Parade Formal dress gloves – Size Large
Don't forget to wear the white gloves that match the boots. Rubber gloves are best but if can cannot find any of those cotton ones are the next best.
Zapp Brannigan Wig
(WG-ZL11-22)Short Straight Men Wig,Golden Blonde color.
That is the clothing done now it's time to think about the hair. It doesn't need to be a perfect match but something recognizable If you have natural blond hair you can style it with lashings of gel (I am sure Zapp takes a lot of time in the mirror in the mornings getting his hair perfect) or use dye.
Zapp Brannigan Boots
Funtasma Men's Captain-100/W/PU Knee-High Boot,White Polyurethane,11 M US
Last but not least is the footwear, something you can tell is from the year 3000! You can either use white boots which are easy to find for women and for men white rain boots.
One final consideration would be to go as a pair, you can dress up as Zapp and a friend as Kif. Kif's costume would be easy to pull off, all you would need is the red and yellow space uniform like above and alien mask.
Don't forget that Leela is the apple of his eye and so it would make sense to go as a couple as these two, if you're the person dressing as Leela be sure to have a look of annoyance on your face like you do not associated with Zapp. Better yet go as a group as Fry, Bender and the others, more people equals more fun.
Overall this is simple to put together once you know how, all that has to be done now is to have fun in your creation which will be a hit for all other Futurama and sci-fi fans.